Today's Photography Flashback – Emma and Bryan's wedding day in Canton October 2016. After their beautiful engagement session in Wade Oval Park, I knew this would be a great day.
Emma and Bryan's wedding in Canton and La Pizzaria Reception was gorgeous. I started the day at the at the Holiday Inn Canton where Bryan was getting ready. With a well thought out and planned wedding day timeline, we were able to get pictures of Bryan getting ready and then pictures of Emma finishing up getting ready.
Church on the Lakes in Canton Wedding Ceremony
Emma put the final touches getting ready in the Church on the Lakes in Canton, Ohio. She put on her jewelry, her perfume and her wedding dress there. This mades sense since she was coming directly from the salon to the church. The bridal room at Church on the Lakes is very spacious. Even though the space only had windows on one side of a long room, it still worked out and we got some beautiful wedding pictures of Emma getting ready.
Bryan and Emma didn't want to see each other before the ceremony but they did want to have a moment together. We arranged this by having each of them positioned around a corner so that they could reach around and hold hands. They could also pass a note to each other. This was a great moment as you will see below.
A bright church with a lot of natural window light, getting wonder ceremony pictures was pretty easy relative to a normal more dark church. After the wedding ceremony and some traditional family pictures on the alter, we headed to McKinley Monument for wedding pictures.
Wedding Pictures at McKinley Monument
Wedding Pictures at McKinley Monument is very popular in Canton. Its a broad open space. The monument itself is a great compositional element that a lot of local photographers love to utilize. Although it was a beautifully sunny day, some clouds dotted the sky creating a much more dramatic affect. After getting some great images, we headed to the LaPizzaria reception.
Wedding Reception at LaPizzaria
I love photographing a wedding reception at LaPizzaria. The geographical location makes it unassuming, but when you enter, you are transported to a different place. As a Cleveland photographer, I've  traveled south to photograph wedding receptions at LaPizzaria before, but the Fresco Room is my favorite. The rich, dark woods, the paintings on the walls. And the ceiling! I'm always excited for the wedding pictures that we will get here. It was a wonderful evening after a wonderful day.
Emma took advantage of a service that is alway included to my bridal clients. On the day of her hair and make-up trial, she put on her dress and we did a photo session at the Church on the Lakes and at LaPizzaria. You can see these images, below.
I want to thank Bryan and Emma for allowing me to document their wedding day. Especially since my wife was pregnant and, literally, due any time (I think I was more stressed than the bride and groom). It definitely was going above and beyond for them to stick with me and I hope that they love their wedding pictures as much as I loved taking them.
Here are some favorites from their day.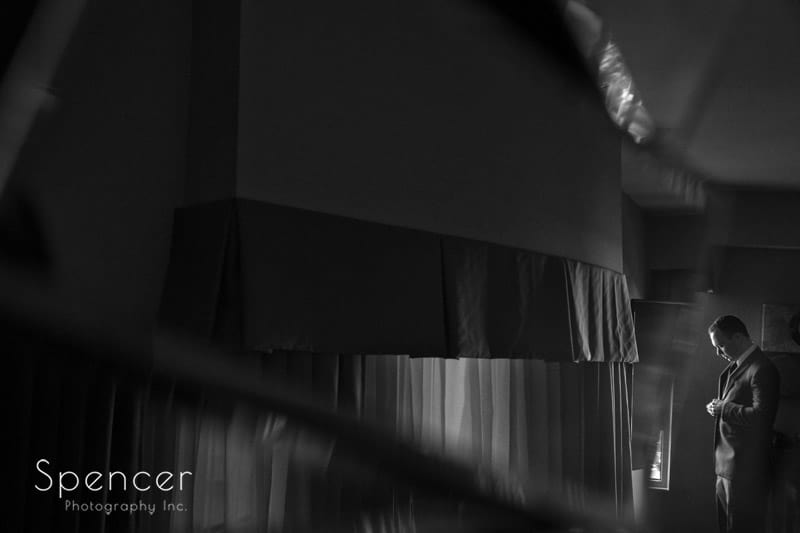 SaveSave